James D'Arcy (birth name Simon D'Arcy 24th August 1975) was born and brought up in Fulham and fell into acting almost by accident. After completing his education at Christ's Hospital (1984-1991), D'Arcy went to Australia for a year and worked in the drama department of a school in Perth, which gave him an interest in acting.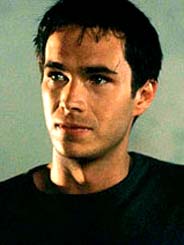 When he returned to London he applied for drama school. He did a three-year course at LAMDA, the London Academy of Music and Dramatic Art, completing a BA in Acting in 1995. During his time at LAMDA he gained acting experience by appearing in the plays Heracles, As You Like It, Wild Honey, The Freedom of the City and Sherlock Holmes.
On leaving drama school: "It was only when I finished the course and left my graduation diploma on the bus that I realised I'd become an actor."

On Acting:
I don't have any expectations as an actor and being rich and famous is not my driving force. I'm not really very ambitious. I'm more interested in enjoying my life and looking after my family than being hugely successful. There are lots of people I admire and respect, but I don't necessarily want to be like them. I'm too happy being myself.
The reason I wanted to be an actor is that I don't want to play me for the rest of my life and make money out of that. I'm attracted to seeing how different I can be, pushing the boat out.